Industry 4.0 Platform
An architecture and a portfolio of solutions to bring your company towards Industry 4.0
People, objects, machinery and resources are those corporate assets that help determine the competitive advantages and strength of your company in the markets. Connecting these objects with people and the remaining business resources can dramatically multiply the synergies of your business model and explode the elements that differentiate your company from your competitors.
Industry 4.0 means to connect as many business resources as possible with the aim of bringing out new information, new data in real time and insights that can boost the operational and economic performance of your company, as well as give you new insights to recreate future services, products and business models.
The architecture of Interlem
Interlem has designed a complete architecture that allows you to connect your company from the production machines to the applications used daily by end users.
---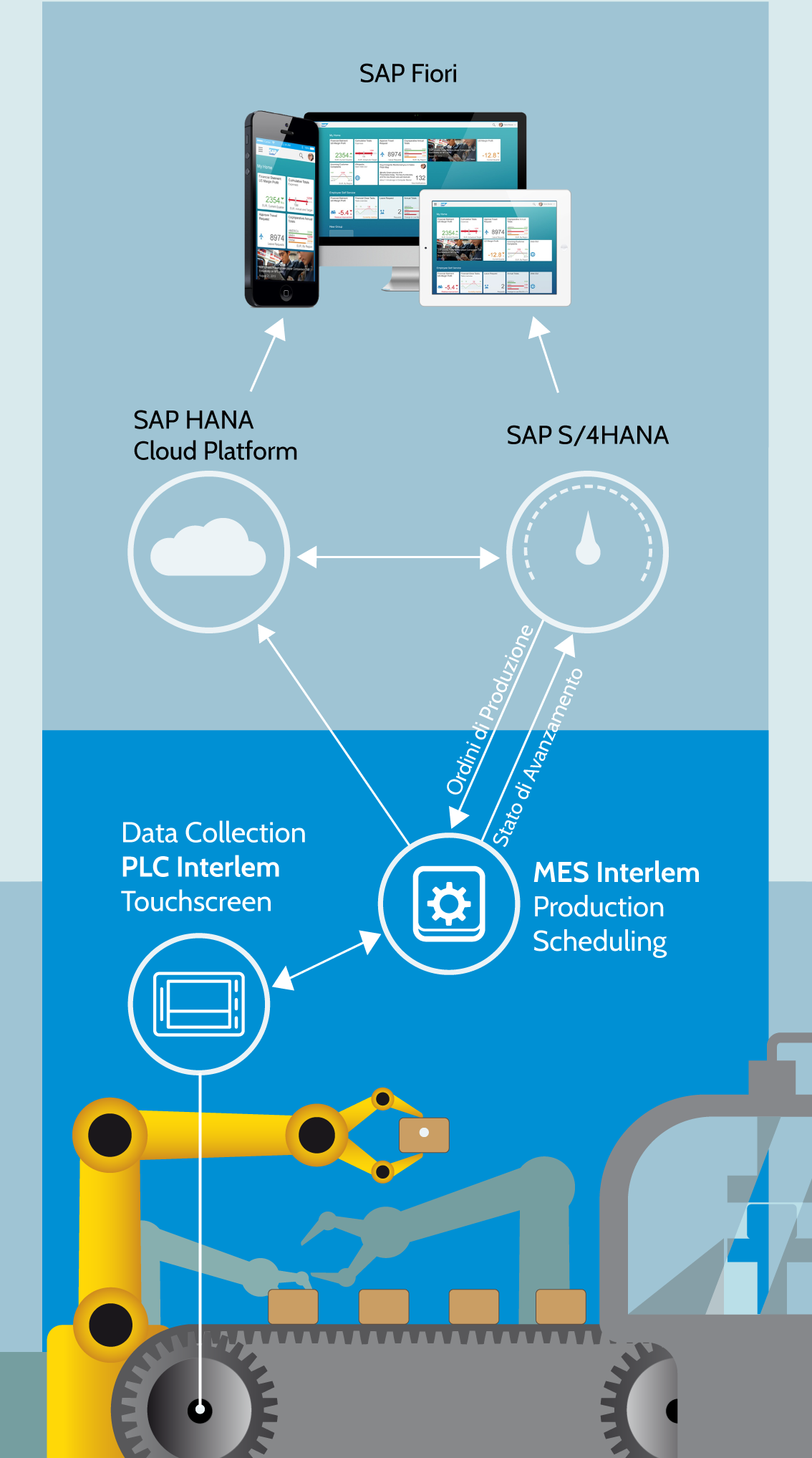 Data Collection
Interlem has developed a 7" Touchscreen PLC capable of handling up to 64 input and output slots. Connectivity via Wifi or RS485 allows installation in any environment. Years of experience in field data collection also allow us to interface with other market Plcs.
---
MES - Production Scheduling
Making your production plans efficient, reducing inefficiencies and eliminating bottlenecks is possible. Choosing a MES means planning your production intelligently, pursuing JUST-IN-TIME logic that help to lengthen production cycles, reduce tooling times and optimize production costs.
---
SAP S4/HANA
SAP S/4HANA is the digital core, the beating heart, of your entire company: it consolidates the internal and external elements in a single live structure that goes beyond the traditional ERP software. In other words, it connects all your processes, provides you with real-time information and easily integrates your business with the digital world. It is a suite based on SAP HANA, SAP's in-memory platform, which offers a personalized user experience of consumer type thanks to SAP Fiori. Deployable in the cloud and on-premises, SAP S/4HANA can deliver immediate value in all areas of your business, regardless of the industry or the size of your business.
---
SAP HANA Cloud Platform
SAP HCP is the new platform-as-a-service that allows you to develop new applications or extend existing ones in a cloud-based environment governed directly by SAP. The in-memory database SAP HANA and the ability to connect SAP systems on-premises or in the cloud, as well as to integrate third-party or open standard systems (Java, Javascript, Node.js), make SAP HCP a powerful development environment where aggregate and consolidate data from numerous sources and design new applications and services.
---
SAP Fiori
SAP Fiori is the new user experience (UX) for SAP applications. Based on the modern principles of UX design, SAP Fiori offers the possibility to develop new interfaces for SAP applications or to create new applications based on the data present in your SAP ERP or on the SAP HANA Cloud Platform (HCP). Your data with a new user experience on any device: desktop, smartphone or tablet.