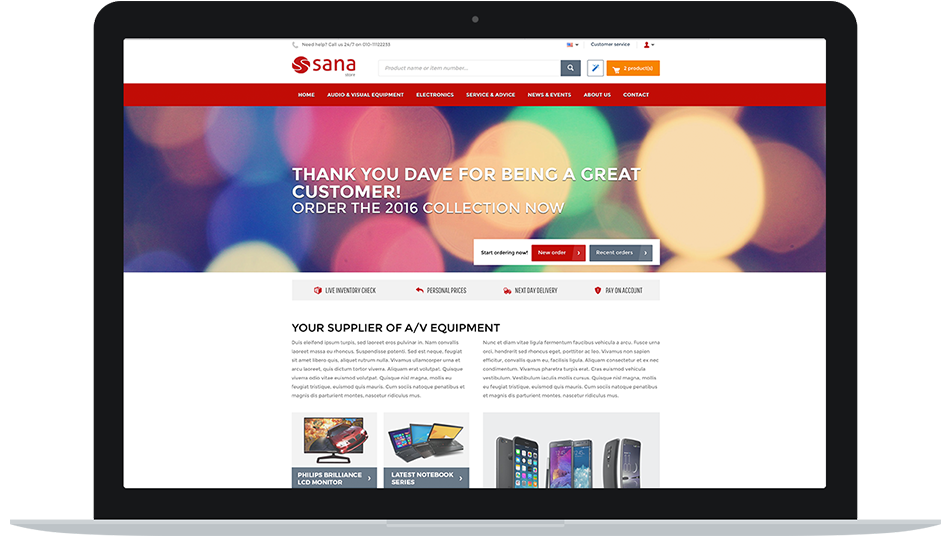 Sana Commerce: Integrated e-Commerce Platform
Sana is a fully integrated B2B and B2C e-commerce solution for SAP ERP, SAP Business One and Microsoft Dynamics NAV / AX / GP.
Sana Commerce is specifically designed to help retailers, manufacturers and wholesalers grow their online business and give mobile support for sales agents.
Truly ERP Integrated E-COMMERCE
Your ERP is the heart of your business in every sense. Leverage the investment you've already made! A seamless integration with all business logic and customer data provides a very valuable source of real-time product information to you and your customers.
With Sana your ERP completes the real-time calculation for your online shopping cart. Customers can access specific prices, stock inventory, order history and account information.
Webshops can be built in a matter of days - your business can benefit from increased sales productivity, better customer experiences and boosted revenue.
Moreover, integrated e-commerce provides many benefts:

Boost your Sales Efficiency
With Sana Commerce, online orders take less time to process and are less prone to errors. Your sales team can get back to work and your customers are more independent in finding the information they want.

Available Anytime (24/7)
Customers want to be informed and to be able to quickly buy the products they need. We can enable your customers to find the information they are looking for, anytime they want.
---

Available Anywhere
With its intuitive multi-touch interface, Sana Mobile app for iOS provides an easy entry in the sales supporting capabilities of your B2B sales portal.

Clean, Responsive Design
We offer a wide range of flexible, contemporary and responsive design templates. You will have everything you need to make your storefront stand out, without the need for extensive CSS/HTML knowledge.
---

Fixed Price Implementation
We offer an out-of-the box integration. A web store built with Sana Commerce is live within a 7 days' budget, 15 days for SAP ERP.

Higher ROI
Sana Commerce is not only implemented at a fxed price, due to the unique leverage or your ERP as the only system to maintain, running costs of your web store are substantially lower compared to interfaced solutions.
---

Increased Revenue
You will increase the revenue of your company with cross- and upsell opportunities, as well as the ability to be open for business 24/7. The potential to enter into new markets also increases with both the visibility and availability of an online store.
Sana Commerce and Interlem are partner of SAP
More than 1,200 web stores around the world have been launched thanks to Sana's innovative approach and strong partners as Interlem. Sana and Interlem know how important it is to offer a complete e-commerce solution, and that's why we also provide additional supplementary services including online marketing, Search Engine Optimization (SEO) advice, hosting and design.